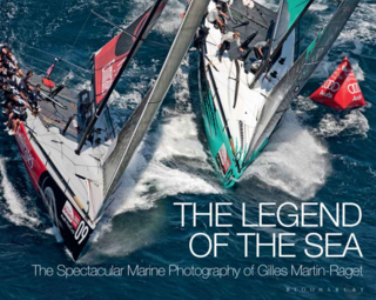 The Legend of the Sea
The Spectacular Marine Photography of Gilles Martin-Raget
Gilles Martin-Raget
Bloomsbury
240 pages
Language: English
Subject: Sea
Gilles Martin-Raget is France's top marine photographer, with a worldwide reputation for spectacular action shots. It is for this reason he was the official photographer for last year's America's Cup competition.

This book is a celebration of 30 years of his stunning photography, which is instantly recognisable for its drama, perfect composition and eye-catching angles. Martin-Raget has refined and perfected his unique technique over three decades, and this collection shows precisely why he has made his mark.

The book is arranged thematically, including fast-paced racing shots, dramatic photos taken from the end of the bow, spectacular accidents at sea, beautiful classic yachts, incredible superyachts, almost futuristic images from the forefront of modern yacht development and, of course, the America's Cup.

A lavish gift for fans of high quality coffee table photographic books or a fine souvenir for those who for who followed the America's Cup, this collection includes some of the best marine photographs ever taken.
STATO: In Commercio
€ 39.50

Print It