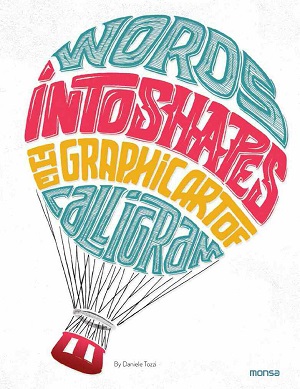 Words into Shapes
The Graphic Art of Calligram
Daniele Tozzi
Monsa S.A.
Layout: 18 x 23 cm
Pages: 144
Cover: Hardcover
Subject: Graphics Font - Tipography
A calligram is a text visually arranged in a way that it forms an image associated with the text's contents. It can be a poem, a phrase, or a single word. The image created by the words illustrates the text by expressing visually what it says, or something closely associated; it can also, on purpose, show something contradictory with the text or otherwise misleading.

Superbly illustrated, Words Into Graphics provides readers with a fascinating introduction to the art of the calligram, a brief history of the form and its various styles, and an easy-to-follow tutorial for creating your very own calligram. It also brings together the work of 14 graphic artists from around the world who have used the calligram to create stunning works.
STATO: In Commercio
€ 28.50

Print It