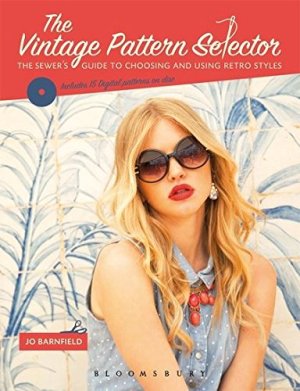 The Vintage Pattern Selector
Barnfield Jo
Bloomsbury
Paperback
Language: English
Subject: Fashion Vintage
Style-conscious women who sew their own dresses, as well as design students, fashion designers, and enthusiasts for vintage clothing styles will welcome this practical new book. It presents advice and instruction on sewing techniques, plus information and ideas on mixing and matching clothing items from different decades of the twentieth century as a way to make a personal fashion statement. Here are―

Style options that draw on decades of experimentation with hemlines, color styles and silhouettes
Information on suitable fabrics, colors, and prints for each style
Topics categorized by clothing items, making it easy for readers to match styles from different eras to create a personalized wardrobe
An enclosed CD-ROM with more than 15 patterns given in four sizes, and representing different vintage styles

Patterns representing fashions from the 1930s, '40s, 50s, and 60s include blouses, skirts, tunic tops, coats, hats, and much more. The book features more than 300 illustrations in color and black and white that capture the looks and the atmosphere of those past decades.
STATO: In Commercio
€ 15.00

Print It