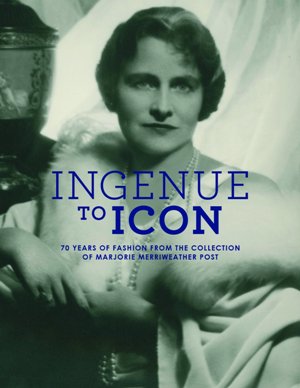 Ingenue to Icon
70 Years of Fashion from the Collection of Marjorie Merriweather Post
Kurtz Vincent
Giles Publishing
Hardcover
168 pages
Language: English

Subject: Fashion Designers
Marjorie Merriweather Post was one of America's most powerful women, a director of General Foods, Inc., philanthropist, patriot, and internationalist, with a keen interest in art, and a magnificent wardrobe collected over seventy years. Ingenue to Icon is a beautifully illustrated new volume dedicated to Post's love of fashion and how she used it to create her unique style: the luxurious, embroidered dresses; exquisite shoes dyed to match her gowns; and fabulous jewels that defined her style offer glimpses into a life of exceptional elegance and wealth.

Post worked closely with fashion designers across Europe and the United States to create her distinctly elegant appearance over the course of her adult life. More than just a catalog of her wonderful evening gowns, Ingenue to Icon illustrates a spectacular collection of costume, combining numerous images of accessories—shoes, hats, handbags, fans and parasols, and related portraits and photographs of Post wearing them—with a wealth of printed ephemera and personal letters, to put them in context. Four chronological chapters chart the progression of Post's development into an icon of elegance during a century of huge change in fashion.

This book will appeal to all those interested in fashion and style of the twentieth century.

Accompanies a major exhibition Ingenue to Icon: 70 Years of Fashion from the Collection of Marjorie Merriweather Post, June 2, 2015 – January 17, 2016, Hillwood Museum & Gardens, Washington, DC.
STATO: In Commercio
€ 26.50

Print It