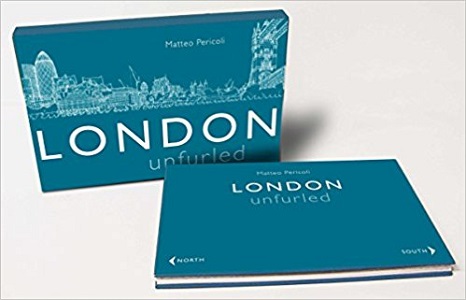 London Unfurled
Pericoli Matteo
Picador
Hardcover: 60 pages
Language: English
Subject: Travel
London is divided and united by its river; one of the few cities in the world to find its essence in two profoundly different, yet nearly touching, urban characters. So the Thames provides the perfect vantage point for telling the most comprehensive story of this complex city.

Arriving with little previous knowledge of London, Matteo Pericoli made an intensive twenty-mile journey along the river, from Hammersmith Bridge to the Millennium Dome and back again. Over two years later, he leaves behind the most astonishing document of his journey: two thirty-seven-foot-long pen-and-ink drawings depicting the city's north and south banks. Each drawing – presented on one side of this beautiful single-sheet accordion-style book – is rendered with loving and essay-like detail, revealing a distinct profile of London in all of its diversity: a dozen boroughs, nineteen bridges and hundreds of buildings, including the Houses of Parliament, Tate Modern, Battersea Power Station and the Millennium Wheel.

Matteo Pericoli's inimitable drawings, constantly complementing and questioning each other, brought him to a better understanding of London – and whether you've lived there all your life, or have never been at all, this breathtaking work of art is certain to deepen your thoughts and renew your fascination with one of the world's most brilliant cities.
STATO: In Commercio
€ 14.50

Print It