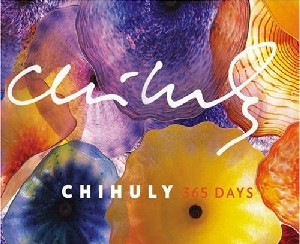 Chihuly: 365 Days
Dale Chihuly
Harry N. Abrams, Inc.
Hardcover: 744 pages
Language English
ISBN / Barcode: 9780810970885
Subject: Design Glass
Dale Chihuly, founder of the Pilchuck Glass School and father of the American studio glass movement, is the single best-known glass artist in the world today. As a result of a 1976 auto accident, which cost him an eye, he must now leave the handling of molten glass to his workshop, but Chihuly's vibrant, festive designs continue to enchant glass enthusiasts around the world. Although the palette he favours is wild and brilliant, the forms of his sculptures are based in nature, often imitating oceanic flora and fauna."Chihuly: 365 Days" features 500 full-colour photographs of works that span his four-decade career, accompanied quotes from the artist himself, short texts on his series pieces, as well as a detailed chronology. His work has been exhibited in Venice, Italy, the Royal Botanic Gardens at Kew, the Tower of David in Jerusalem, the Nijima International Glass Festival in Japan and the New York Botanical Garden and permanent displays can be found in the Victoria and Albert Museum in London, the Rainbow Room at Rockefeller Center, the Corning Museum of Glass in upstate New York and the Bellagio Hotel and Casino in Las Vegas.
STATO: In Commercio
€ 36.00

Print It