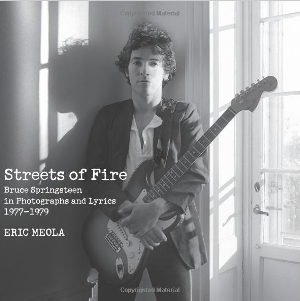 Streets of Fire
Bruce Springsteen in Photographs and Lyrics 1977-1979
Eric Meola
Harper Collins
Hardcover
128 pages
Language: English
ISBN / Barcode: 9780062133458
Subject: Music
An intimate, behind-the-scenes look at Bruce Springsteen as you've never seen him before. This collection includes more than seventy black-and-white photographs by photographer Eric Meola, lyrics by Bruce Springsteen, and an essay by Joyce Millman.

Eric Meola first saw Bruce Springsteen perform in 1973 at New York's legendary club Max's Kansas City. He began photographing Springsteen the following year, just before the release of his breakthrough album, Born to Run, for which Meola shot the cover album art. Meola continued photographing Springsteen throughout his early career, most notably from 1977 through 1979, when Springsteen was emerging as a bona-fide rock star.

This carefully curated collection of images gives us a revelatory look at Springsteen as he was coming to terms with his newfound success and creating the music for his fourth album, Darkness on the Edge of Town. Complete with an introduction from Meola, an insightful end-of-book essay by Joyce Millman, and running lyrics to several of Springsteen's songs, this book also shows how Meola's evocative portraits reveal Springsteen as he really was—an artist at the crossroads of his fledgling career, writing about dark themes and finding redemption through his own words and image.
STATO: In Commercio
€ 22.00

Print It