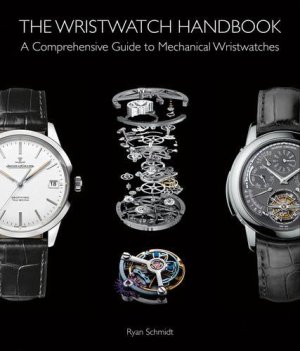 The Wristwatch Handbook
A Comprehensive Guide to Mechanical Wristwatches
Ryan Schmidt
Antique Collector Club
Hardcover
352 pages
Language: English
ISBN / Barcode: 9781851498291
Subject: Antique Collector
• A fantastic reference work for the novice or the seasoned watch enthusiast
• Fully illustrated with 400 color photographs
• Includes sections on basic watch mechanics, design and materials, and the industry and its players
The Wristwatch Handbook provides the reader with a comprehensive anatomy of the mechanical wristwatch, every conceivable function and form. It is the foundational text for the novice and the reference book for the seasoned enthusiast. Where other books about watches focus on advising the collector, on a single brand, or on a timeline of key historical figures and events, The Wristwatch Handbook takes a detailed look at mechanical wristwatch complications (functions) and leaves no stone unturned. The reader will gain the ability to identify a complicated watch from twenty paces and perform a top-to-bottom assessment of even the most exotic timepiece in a matter of seconds.
Despite the functional obsolescence of the mechanical wristwatch (our phones, computers, even microwaves tell more accurate time), there are more varieties of mechanical watches available than ever before. Today, innovation is no longer exclusively preoccupied with accuracy; pioneer manufacturers are also exploring friction reduction, anti-magnetism, scratch resistance, dial decoration, exotic materials and so on. Whether it be the use of butterfly marquetry on a dial, mounting five hands on the same central point, or building the entire watch case out of crystal, The Wristwatch Handbook covers it all and takes the reader to a level of detail that does not only identify the function/form, but also explains its application and even takes the time to ponder and indulge.
The book starts with an introduction to the core mechanisms, covers the functions and forms in the main body and concludes by zooming out from the minutia to the massive organism that is the watch industry, contextualizing the manufacturing process, key brands, conglomerates and independent manufacturers.
The Wristwatch Handbook is "brand agnostic" and places equal emphasis on vintage and cutting edge and as a consequence will remain relevant and be enjoyed for longer. The book is presented in an accessible, usefully illustrated and good humored style throughout its almost 400 pages.
STATO: OS - Ordinabile
€ 78.00

Print It