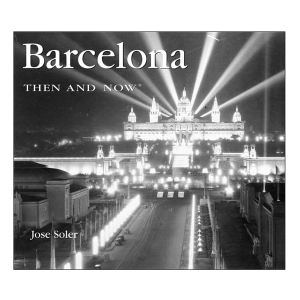 Barcelona: Then and Now
Thunder Bay Press (S&S)
Hardcover: 144 pages
January 12, 2007
Language: English
Subject: Travel Miscellaneous
A trip to Barcelona, Spain, is not soon forgotten. The capital of Catalonia, Barcelona is known for its remarkable architecture, glorious strolls down Las Ramblas, fantastic food, political unrest, and a history that dates back to the arrival of the Romans in the first century before Christ. Pop open a bottle of cava, and enjoy time traveling at its best in Spain's second largest city with Barcelona Then and Now.
• Seventy pairs of photographs illustrate then-and-now images of beautiful, historic Barcelona.
• Explore the Barri Gotic, the old city's Gothic Quarter, and you'll notice how the narrow cobbled streets where Picasso and Joan Miró once lived have — and haven't — changed with time.
• Discover the astounding architectural gifts of Antoni Gaudí as they were then, and as they are today; see Parc Guell, Batllo House and his still unfinished masterpiece, La Sagrada Familia.
• Visit the Mercat de la Boqueria, Barcelona's famous food market, and you'll notice it's still a vital part of the city's everyday life.
STATO: In Commercio
€ 14.50

Print It