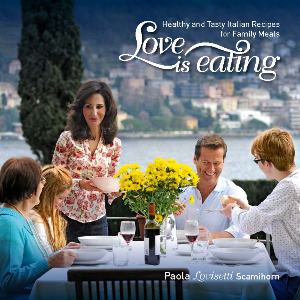 LOVE IS EATING*
HEALTHY AND TASTY ITALIAN RECIPES FOR FAMILY MEALS
Paola Lovisetti Scamihorn
Edizioni Tecnografica
220 x 220 mm
132 pages with color photos Languages: English
Hardcover
Subject: Cooking, Eat & Drink Italy
This engaging everyday Italian cookbook features simple recipes highlighting fresh, seasonal, local and healthy ingredients. Italian food is simple, tasty and zesty. You can whip up a mouth-watering meal with only a few ingredients, in no time, putting a delectable dinner on the table with a minimum of stress and maximum of taste. My recipes are incredibly accessible – and delicious – perfect to share with your family and friends. I selected these recipes with passion, trying to include many regional – as well as my family's – culinary traditions.

The book is divided into four chapters (first courses, main courses, salads and side dishes, and of course, desserts) plus an appendix with some basic Italian preparations such as fresh egg pasta, orecchiette pasta or pizzoccheri pasta, tomato sauce andn mascarpone cheese. All the recipes are written with both metric and imperial measurements.

Italian cooking is not only composed of ingredients, but also of people, and as such it cannot be reduced to the final act of consumption. Italian food is more than only nourishment … it is history, culture, art, health and, last but not least: Family. Nutritional information on some typical Mediterranean ingredients is also presented by Katharine McKeever, an Australian nutritionist who lives in Italy. The Sicilian recipes are accompanied by the beautiful and original art work of Adriana Glaviano, a well-known Italian artist and fashion director, sister of the famous photographer Marco Glaviano.
STATO: In Commercio
€ 28.50

Print It