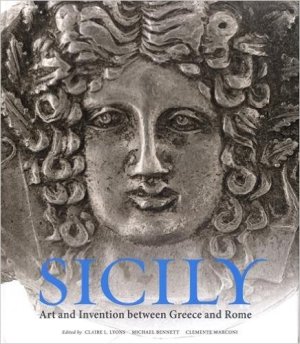 Sicily
Art and Invention between Greece and Rome
Claire L. Lyons (Editor), Michael Bennett (Editor), Clemente Marconi (Editor)
Getty Museum (Yale)
Hardcover
288 pages
Language: English
Subject: Travel Sicily
Ancient Sicily, a prosperous island at the crossroads of the Mediterranean, occupied a pivotal place between Greece, North Africa, and the Italian peninsula. In the late eighth century B.C., émigrés from the Greek mainland founded colonies along the shores of the region they knew as Sikelia, bringing with them the dialects, customs, and religious practices of their homelands. Dearest of all lands to Demeter, goddess of the harvest, Sicily grew wealthy from its agricultural abundance, and colonial settlements emerged as formidable metropolises.

Sicily: Art and Invention between Greece and Rome is the only English-language book that focuses on the watershed period between the victory over the Carthaginians at the Battle of Himera in 480 B.C. and the Roman conquest of Syracuse in 212 B.C., a time of great social and political ferment. Intended as a sourcebook for Classical and Hellenistic Sicily, this anthology features current research by more than forty international scholars. The essays investigate Sicily not simply as a destination for adventurers and settlers, but as a catalyst that shaped Greek culture at its peak and transmitted Hellenism to Rome. In the opulent courts of the Sicilian city-states, artists, poets, and scientists attained levels of refinement and ingenuity rivaling, even surpassing, those of "old Greece." Innovation in architecture, engineering, coinage, philosophy, and literature flourished in mixed cultural communities, which offered room for experimentation and gave birth to such influential figures as Empedokles, Theokritos, and Archimedes.

This volume accompanies the exhibition Sicily: Art and Invention between Greece and Rome, presented at the J. Paul Getty Museum at the Getty Villa (April 3– August 19, 2013), the Cleveland Museum of Art (September 30, 2013–January 5, 2014), and the Palazzo Ajutamicristo in Palermo (February 14–June 15, 2014).
STATO: In Commercio
€ 39.50

Print It